Giant Chair in front of the
Adirondack Museum
My next stops were all in Upstate New York. After a quick visit to the
Adirondack Museum
, I explored Fort Stanwix and the Women's Rights Museum, two National Park Service sites; then I checked out Niagara Falls.
Fort Stanwix National Monument
is in Rome, NY. The saying that "all roads lead to Rome" aptly applies here. This fort was strategically situated on both north-south and east-west routes. In addition, it was on a major portage between the Mohawk River and Wood Creek for travel from the Atlantic Ocean to Lake Ontario.
Well fortified entrance into
Fort Stanwix
This year, Fort Stanwix is celebrating 75 years with the National Park Service. The following weekend, they were to have lots of activities, reenactments, and general hoopla. When I was there, it was actually pretty quiet.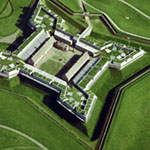 Star shape fort design
Although it is now surrounded by a modern city, it's easy to see why the fort was placed where it is. It's on high ground and protected on one side by a natural creek. This fort is not shaped like other forts I'd seen. That is, it's not square or rectangle. It's kind of a star shape. By utilizing this shape, which is French in origin, the soldiers defending the fort from atop its walls had no blind spots. I was impressed (pic from
http://www.nps.gov/fost/images/FOST_green_trim.jpg
). Fort Stanwix is one of a handful of US forts that never surrendered.
Cooper who makes wooden barrels
I got a chance to speak with a "cooper" who, dressed in period clothing and using period tools, makes wooden barrels for storing food and supplies. I made the mistake of saying that it kind of reminded of basket making. Oh my, was he ever insulted; open mouth, insert foot. All in all tho', it was very interesting and definitely requires a lot of knowledge and skill.
After spending the night at a nice private campsite in
Cayuga Lake State Park
, I visited the
Women's Rights National Historical Park
which is in Seneca Falls, NY, the birthplace of the movement. In 1848 Elizabeth Cady Stanton and four other women called the First Women's Rights Convention and wrote the Declaration of Sentiments which was modeled after the Declaration of Independence.
Life size sculpture of key participants
in the first Women's Rights Convention
It reads, in part:
"... We hold these truths to be self-evident; that all men and women are created equal; that they are endowed by their Creator with certain inalienable rights; that among these are life, liberty, and the pursuit of happiness; that to secure these rights governments are instituted, deriving their just powers from the consent of the governed. Whenever any form of Government becomes destructive of these ends, it is the right of those who suffer from it to refuse allegiance to it, and to insist upon the institution of a new government, laying its foundation on such principles, and organizing its powers in such form as to them shall seem most likely to effect their safety and happiness..."
Restored Cady Home
After exploring the museum, I went to the restored home of
Elizabeth Cady Stanton
(1815-1902) where a ranger gave some history and insight into her
life in Seneca Falls
. She was very involved in her community at many levels, had a successful marriage and raised a family of 5 boys and 2 girls. Strangely enough, the thing that I came away with, more than anything, was that she was a great mother. And, all of her work and leadership in the women's rights movement is very much part and parcel of what made her a good parent. It somehow makes me proud of the choices I've made as a woman and mother.
Lock on Cayuga-Seneca Canal
On the way from Fort Stanwix through Seneca Falls to Niagara Falls I followed the
Erie Canalway National Heritage Corridor
. Here is a picture of a lock on the Cayuga-Seneca Canal, which raises/lowers boats 50 feet. The employees there were very proud that they had recently upgraded to a hydraulic system.
Rapids just before Niagara Falls
Niagara Falls
was one of those places I just wanted to see while I was on this journey, even though it's not a national park. It is a NY State Park and a natural wonder. It certainly lived up to my expectations in its grandeur. It's huge, humongous, and very loud. I was surprised, though, that there were such big rapids before the falls. I was expecting a calm river before it went over the crest, like Snoqualmie Falls near my home.

Niagara Falls from the US side

I had also hoped to visit the
Theodore Roosevelt Inaugural National Historic Site
in Buffalo the following Saturday morning. Unfortunately, I couldn't find parking because the it was the day of the annual Delaware Avenue Tour of Homes event. I did, however, enjoy the drive around the area myself. It felt old and was well kept, and the architecture was amazing.
Lake Ontario
Before heading south, I took a little excursion north to see Lake Ontario. And, then the next day, on my way to visit a friend in northwest Pennsylvania, I took the scenic route and stayed as close to Lake Erie as possible.
originally posted 9/18/10