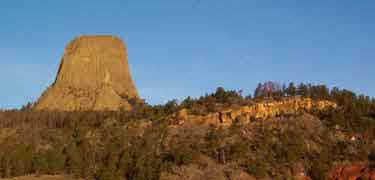 After overnighting in Cody to wash clothes and car, I got to
Devils Tower National Monument
in northeast Wyoming (pic:
http://www.nps.gov/imr/customcf/apps/CMS_HandF/GreenBoxPics/DETO_towerweb.jpg
). I had a nice camping spot where I could see the tower as the sun set and again in the mist at sunrise.
The Native American names for this place are more fitting I think -- Bear Lodge, Bear Tipi, Bear Hat. It is a spiritual place and several tribes were using the grounds for traditional ceremonies at the time I was there. I'm glad that the National Park Service recognizes their right to this sacred site and encourages visitors to give them privacy.
originally posted 6/18/10